Specification
RL 150
The Ultra Featherweight
Folded Dimensions
(L x W x H)
84 x 53 x 25cm
33 x 21 x 10in
Unfolded dimensions
(L x W x H)
107 x 53 x 89cm
42 x 21 x 35in
Net weight
14kg: 11kg caddy + 3kg battery
30lb: 24lb caddy + 6lb battery
Electric Motor Type
2x Tubular Motor 200W (12V DC)
Battery
- LITHIUM ION (600 charge cycles)
- 24V-10Ah (27 holes)
Charger
Smart-Charge DC Trickle Charger
Input: 100-240V AC
Output: 24V 3A DC
Control System
SPITZER Logic with Rheostat Speed Control
Max. speed
6 mph / 9 km/h
Max. Remote Distance
100m / 109 yards
Max. Incline (degrees)
30
Max. Loading
35 kg / 77 lbs
Wheels (Front & Rear)
- Rubberized Ultra-grip tread
- No air required
- Quick-Release Rear Wheels (11.5")
- Front Wheels with adjustable tracking
Frame Construction
- Aviation Grade Aluminum Tubing "X-Frame"
- Tri-Coat Paint System
Warranty
1 year
Features
- Lithium Ion Power and Lightweight!

- Easy to Use Controls

- USB charger port
LITHIUM-ION POWER and the SPITZER Electric Golf Cart technology are a perfect marriage of golf equipment and advanced technology.
LITHIUM-ION batteries offer the power and range of conventional lead-acid batteries while being up to 75% lighter!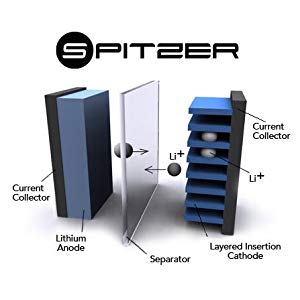 No battery memory effect
No need to maintain a minimum battery charge!
Run a full 18 holes on one charge
The RL150 Electric Golf trolley gives you the freedom to walk the course without the burden of carrying your heavy bag, resulting in a more enjoyable and focused game.
The RL150 features quality craftmanship with Aviation Grade Aluminum Frame with Alloy folding hardware components
Powered by a lightweight LITHIUM ION battery! No more heavy lead-acid batteries!
Features a fully functional SPITZER Secure Anti-Jamming remote with 100 yard range
Battery Indicator LED Lights
Long Range SPITZER Secure Anti-Jamming Remote Control (uses 2xAAA batteries)
Variable speed adjustment to match your unique walking speed
Resume last speed with a push of the "Go" Button
Auto-Run Timer - allow trolley to cruise ahead for a fixed distance
Integrated USB Charger Port (for charging GPS, Smartphones)
ADDITIONAL FEATURES:
Universal Golf Bag fit (stand or cart bags) with Height Adjustable handle
Spitzer Anti-Jamming Remote Control
Battery and high amperage quick charger
Compact folding size with detachable wheels
Easily stored in a trunk of a car, with a set of clubs
Ships in a fully insulated carton box